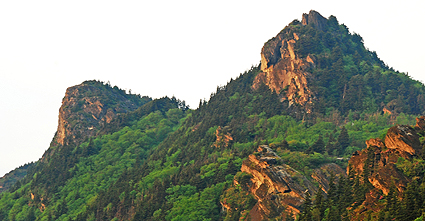 Grandfather Mountain is…
a scenic travel destination
a globally recognized nature preserve
and one of the highest peaks in the Blue Ridge mountains (elv. 5,946 feet)
The Grandfather Mountain Stewardship Foundation is a not-for-profit corporation.
The Grandfather Mountain Stewardship Foundation strives to inspire conservation of the natural world by helping guests explore, understand and value the wonders of Grandfather Mountain.
One ticket price includes everything:
Guests purchase tickets (one ticket per person) and drive their own vehicles through the park, stopping along the way to enjoy a variety of activities. All proceeds from sales of tickets and souvenirs go toward caring for and presenting Grandfather Mountain in a manner that inspires good stewardship in others.
Main Attractions
Beautiful mountain scenery
Mile High Swinging Bridge
Environmental Habitats for native wildlife

Black Bears, River Otters, Cougars, Deer and Bald Eagles

Nature Museum

excellent exhibits about the natural history of the region
theater that shows nature movies made on the Mountain
restaurant and gift shop
fudge shop makes fudge daily

South's best alpine hiking trails

More than 12 miles of regularly maintained trails ranging in difficulty from easy nature walks to strenuous backcountry challenges

Picnicking

Over 100 picnic tables and grills are scattered throughout the park. The picnic area located on the right about 1/3 mile up the summit road is equipped with a water fountain and restrooms.
Guests are welcome to bring their own picnic or purchase meals to go from the Museum restaurant.

Naturalist Programs

Special activities and programs with the Mountain's naturalists are presented daily during the summer months and are included in the price of admission.
Guided tours and guided hikes with the Mountain's naturalists are available for an additional fee. Phone 828-733-4326 for reservations.