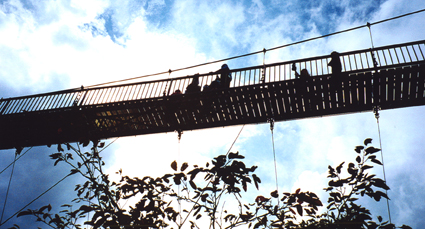 The Mile High Swinging Bridge was built to give visitors easy access to the breath-taking view from Grandfather Mountain's Linville Peak.
The 228-foot suspension bridge spans an 80-foot chasm at more than one mile in elevation. Surveys show that the journey to the other side is always considered the highlight of a trip to Grandfather Mountain.
Access
- The new Top Shop provides ELEVATOR ACCESS to the Mile High Swinging Bridge, making the span accessible to people with disabilities for the first time. It is about 50 yards from the building to the bridge. There is a bench near the bridge.
Name
- Former North Carolina Tourism Director Charles J. Parker coined the name " Mile High Swinging Bridge" at the Bridge's dedication in 1952.
The term "mile high" refers to the structure's elevation above sea level (5,280 feet)
The term "swinging" refers to the fact that suspension bridges are free to sway.
Built – 1952
Designed by – Charles Hartman, Jr., Greensboro, NC
Construction – actually fabricated in Greensboro and then reassembled on top of the Mountain. Erecting the bridge took three weeks, a process slowed by inclement weather created by a hurricane off the North Carolina coast.
Cost -$15,000
Dedicated – Sept. 2, 1952 by North Carolina Gov. William B. Umstead.
Rebuilt in 1999
using the original towers. The cables, floor boards and side rails were all replaced using galvanized steel. One of the main advantages of the modern building materials is that they do not have to be painted. Now Grandfather Mountain employees will not have to hang out over the gorge to paint the span.
Redesigned – 1999 by Sutton, Kennerly & Associates Engineering of Asheville, N.C.
Rebuilt by – Taylor & Murphy Construction Company of Asheville
Cost of rebuilding – $300,000