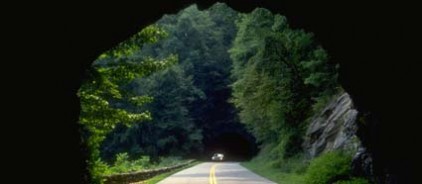 Driving Directions
For tailored driving directions, click here to visit google maps

The entrance to Grandfather Mountain is located on US 221, two miles north of Linville, North Carolina, and one mile south of the Blue Ridge Parkway at milepost 305.
The street address is: 2050 Blowing Rock Highway, Linville, NC 28646. The GPS coordinates are 36.08502N, -81.84646W.  The road to the summit is referred to as Grandfather Mountain Entrance Road, Linville, NC.
We recommend against relying on a navigation system or other form of computer generated directions. Computers are machines that do not get car sick traveling curvy roads. Their software programs do not always recommend the quickest, simplest and most-traveled routes. They frequently default to the shortest mileage between two points (often sending drivers through remote areas over very narrow country roads).
Please read through the directions listed below for the route that A REAL HUMAN BEING recommends to get from there to here. We want you to have a good experience at Grandfather Mountain, and that starts by having a good trip to our front door.
70 mi. from Asheville, NC:
The Blue Ridge Parkway links Grandfather at Milepost 305 with Asheville at Milepost 382. Plan on a 2.5 to 3 hour drive if you take the Parkway.
The fastest route is to take I-40 East to Marion, NC. Take Exit #85. Turn left at the bottom of the ramp and go one mile to a stoplight. At the stoplight turn left and follow US 221 North to the entrance of Grandfather Mountain (about 30 miles). Printable Map and Directions from Asheville
106 mi. From Charlotte, NC:
Starting on the South Side of Charlotte: Take I-85 South to Gastonia, NC. Pick up US 321 North to Hickory. There you can take US 321 on to Blowing Rock (Exit 123 B) or take I-40 West to Morganton (Exit 105).
Starting on the North Side of Charlotte: Take I-77 North to Statesville. Pick up I-40 West to Hickory – or continue on I-40 West to Morganton .
If you'd like to travel through Blowing Rock: From I-40 Exit 123 B, take US 321 North from Hickory to Blowing Rock.  Take the Blue Ridge Parkway South to the US 221 intersection at Milepost 305. Take US 221 South 1 mile to the entrance of Grandfather Mountain.
To come directly to Grandfather Mountain: Take I-40 West from Hickory to Exit 105 at Morganton. Take NC 181 North 34 miles to Linville, NC. Take US 221 2 miles from Linville to the entrance of Grandfather Mountain.
Printable Map and Directions from Charlotte
55 mi. From Hickory, NC:
From I-40 Exit 123 B, take US 321 North to Blowing Rock, NC. Take the Blue Ridge Parkway south 14 miles to the US 221 intersection at milepost 305 (less than a mile after you cross the Linn Cove Viaduct). Take US 221 South 1 mile to the entrance of Grandfather Mountain. Printable Map and Directions from Hickory
36 mi. From Morganton, NC:
Take NC 181 (I-40 Exit #105) North 34 miles to Linville, NC. Take US 221 2 miles from Linville to the entrance of Grandfather Mountain. Printable Map and Directions from Morganton
19 mi. from Boone, NC:
Take NC 105 South to Linville. Turn left at the stoplight and take US 221 North 2 miles to the entrance of Grandfather Mountain. Printable Map and Directions from Boone
15 mi. from Blowing Rock, NC:
Take the Blue Ridge Parkway South to the US 221 intersection at Milepost 305. Take 221 South 1 mile to the entrance of Grandfather Mountain. Printable Map and Directions from Blowing Rock
50 mi. from Johnson City, TN:
Take US 321 to Elizabethton, TN. Pick up US 19-E to Elk Park, NC. Continue on that highway to Newland, NC (road marker changes to NC 194). Turn left at the second stoplight in Newland and take NC 181 to Linville, then straight (through 2 stoplights) 2 miles on US 221 to the entrance of Grandfather Mountain. Printable Map and Directions from Johnson City
103 mi. from Winston Salem, NC:
Take US 421 North to Boone, NC. Take NC 105 South to Linville. Turn left at the stoplight in Linville and take US 221 North 2 miles to the entrance of Grandfather Mountain. Printable Map and Directions from Winston Salem
Closest Airports to Grandfather Mountain
| | | |
| --- | --- | --- |
| Airport | Drive Time to GM | Service type |
| Hickory, NC | 1 1/2 hours | Commuter / Regional |
| Johnson City, TN | 1 1/2 hours | Regional |
| Asheville, NC | 1 1/2 hours | Regional |
| Charlotte, NC | 2 1/2 hours | International Hub |
| Greensboro, NC | 2 1/2 hours | International Hub |
For Landing Private Planes