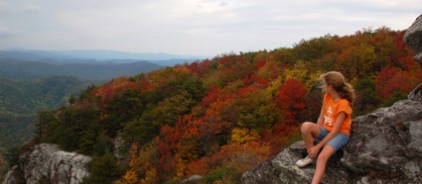 Towering above northwest North Carolina, Grandfather Mountain is the region's premier and most ecologically diverse nature preserve; a vast wild place, where knowledgeable guides and modern conveniences make a personal mountain adventure accessible to all.
One ticket price includes everything:
Guests purchase tickets (one ticket per person) and drive their own vehicles through the park, stopping along the way to enjoy a variety of activities.
Proceeds from your ticket are used to preserve and protect Grandfather Mountain for future generations:
The Grandfather Mountain Stewardship Foundation is a not-for-profit corporation that was established to preserve Grandfather Mountain, operate the nature park in the public interest and participate in educational and research activities. All proceeds from sales of tickets and souvenirs go toward caring for and presenting Grandfather Mountain in a manner that inspires good stewardship in others.
Main Attractions:
Lofty altitude gives guests the exhilarating sense of being above the surrounding mountains
Beautiful mountain scenery
Mile High Swinging Bridge
Environmental Habitats for native wildlife: black bears, river otters, cougars, deer and bald eagles
Nature Museum featuring: excellent exhibits about the natural history of the region, theater showing nature movies made on the Mountain
Restaurant and gift shops
South's best alpine hiking trails: More than 12 miles of regularly maintained trails ranging from easy nature walks to strenuous backcountry challenges
Picnicking: More than 100 picnic tables and grills are scattered throughout the park. The Woods Walk picnic area located on the right about 1/3 mile up the summit road is equipped with a water fountain and restrooms. Guests are welcome to bring their own picnic. Those who have not planned ahead can purchase fried chicken or sandwiches to go from the museum restaurant.
Naturalist programs
Special activities, programs and guided tours with the Mountain's naturalists
Special Events
Naturalist Weekend
Nature Photography Weekend (weekend after Memorial Day)
Remarkable Rhododendron Ramble
Singing on the Mountain, an all-day gospel sing (fourth Sunday in June)
The Grandfather Mountain Highland Games & Gathering of the Scottish Clans (second full weekend in July)
Grandfather Mountain Campout
Professional and Amateur Camera Clinic (third weekend in August)
Kidfest (second Saturday in September)
Girl Scout Day
Creatures of the Night & Bonfire Delight
Fall Color hikes
Beary Scary Halloween
Click here for more information about featured events.