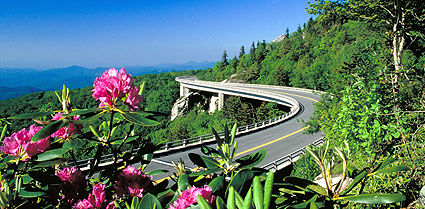 The Blue Ridge Parkway Viaduct
The Blue Ridge Parkway is a 470-mile scenic road connecting the Shenandoah National Park/Skyline Drive in Virginia with the Great Smoky Mountains National Park in North Carolina and is the most visited segment of America's national park system.
How to take the Blue Ridge Parkway across the flanks of Grandfather Mountain was a major concern to conservationists who were afraid that traditional "cut and fill" methods of road-building through mountainous terrain might disturb the delicate balance in the many ecological communities that cling to Grandfather's slopes.
To address the challenges of protecting the environment while completing the road, the Park Service considered three possible routes to take the road across Grandfather Mountain.
Property for the "low route," a path that would have closely paralleled US Highway 221, was sold to the state by the Linville Company in the late 1930s. The "high route" and the "middle route" were suggested in the 1950s and 1960s. When the "middle route" was adopted by the Park Service in 1966, Grandfather Mountain donated all of the right-of-way needed to build the road.
The "middle route" crossed the environmentally fragile Black Rock area of Grandfather Mountain. The rugged landscape was comprised of cracked, loose boulders — meaning that traditional road-building techniques would be vulnerable to rock slides.
But while these problems were delaying construction between Linville and Blowing Rock, the remaining 462 miles of the Blue Ridge Parkway were under construction. This made the eight miles of road across Grandfather Mountain the last section to be completed, and earned it the nickname of "the missing link."
A bridge over land
To traverse the Black Rock section of Grandfather Mountain, Parkway engineers decided to build a viaduct. A viaduct is actually a bridge over land, and they have long been used successfully in the European Alps. To protect the land underneath the structure, it was built from the top down using precast segments supported by piers. The quarter-mile long Parkway bridge is called the Linn Cove Viaduct.
The design, prepared by Figg & Muller of Tallahassee, Florida, called for 153 50-ton segments to connect seven permanent piers set 180 feet apart. The design included almost every kind of alignment geometry ever used in highway construction, and no two of the 153 segments were alike.
Work began on the viaduct in June 1979 and was completed in November 1982 at a final cost of $9.8 million. The last link of the Parkway was opened in September 1987, 52 years after construction first began.
The viaduct has won 12 national design awards and is the most popular section of the 470-mile Blue Ridge Parkway.